AMR
Access Maintenance and Repairs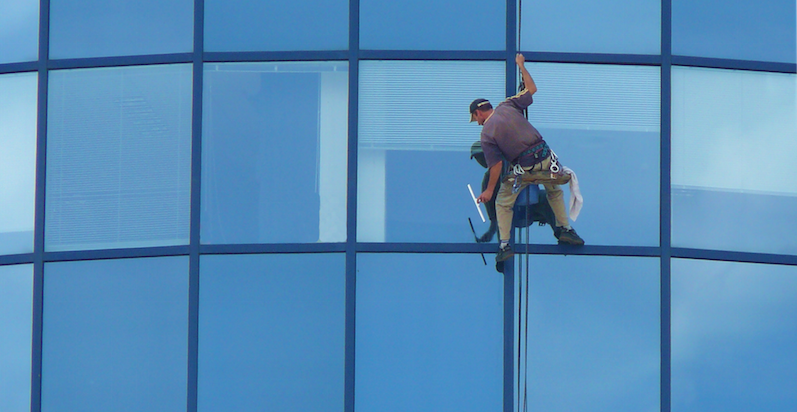 Here are some Frequently Asked Questions:
If you have some questions that are not answered here, please email us and we will give you a prompt reply.
What is rope access?
Rope Access is a technique in which ropes and specialised hardware are used to provide the primary means of support for workers to access and complete work at height.
Are the technicians professionally qualified?
You will be glad to know that all access work will be in accordance with the Australian Rope Access Association (ARAA) standards.
Is it safe?
All the work performed on your building will conform to all Australian Standards applicable to the specific task at hand. We will comply with all applicable Workplace Health and Safety regulations, plus follow all requirements in the Australian and New Zealand Standards 4488.
This is accomplished using a two-rope system. The main rope supports the worker, and the second (or back-up) rope provides protection against falling.
What about any legal implications?
For your benefit, it is a legal requirement for any business performing building maintenance work to be registered with Building Services Authority. AMR is registered with the BSA and we only employ competent tradesmen who can provide quality work.
All regulations and requirements from the EPA (Environmental Protection Agency) will be adhered too.
What if something does go wrong?
AMR has an unblemished safety record, and we are firmly committed to only implementing work practices that will ensure the safety of our workers, your staff, the general public, your building and surrounds, and the environment.
Access Maintenance and Repairs is fully insured with a public liability insurance to the value of twenty million dollars (Au$20,000,000).
You can be confident in our commitment to safety because we will submit A WORK PLAN, A RISK ASSESSMENT REPORT, A RESCUE PROCEDURE and A COPY OF CURRENT WORK COVER AND PUBLIC LIABILITY INSURANCE, on acceptance of our quote.
What can you use for anchor points? There are usually enough safe anchor points at any site. At our initial inspection, our trained personnel will identify available anchor points, assess their suitability, and incorporate them into our quote . On the rare occasions there is nothing suitable, we are able to fit anchor bolts, use free-weight anchors, or even use an anchor on the ground on the other side of the structure. The flexibility of industrial rope access is able to offer you this advantage over traditional access methods.